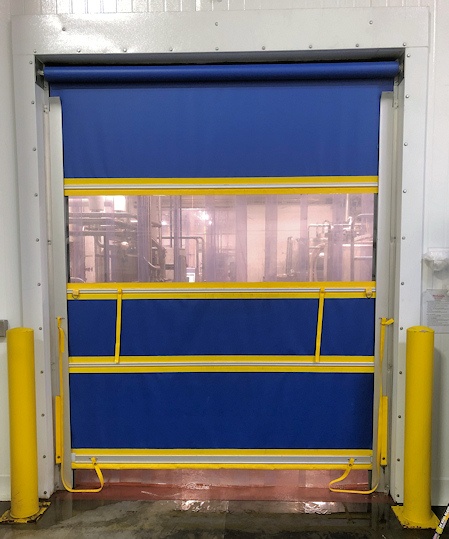 OVERVIEW
Manual Vinyl Roll Up Doors are operated by a heavy duty spring loaded roll tube. Pull down handles are provided for easy opening and closing. Manual vinyl doors are supplied with a locking pin and grommet or locking plate for holding door in place. A spring assisted Chain Hoist option is available for larger doors. Friction brake is supplied at 13' and higher on chain hoist models.
Inexpensive
Manual roll-up vinyl doors are less expensive than motorized yet still provide the same high-quality door.
Easy Kit Install
The roll-up vinyl door is easy to install with a few basic tools and a piece of lifting equipment for larger doors.
Break-Away Bars
The bottom bar break-away feature, with automatic reset is a time saver and protects your investment
Quick to Clean
The doors are easy to maintain and clean. Most replacement parts needed are only a day or two away
Vinyl Roll-up Doors
Paylon commercial roll up doors offer an economical solution For room separation From temperature loss, dust and noise control while allowing easy access for foot, cart and motorized traffic. Each door is custom fit to your specific application.
Quick Install
All our commercial vinyl roll-up doors come as a complete kit, custom made for your application. The doors are easy to install and are designed to give many years of trouble-free operation. The commercial vinyl roll up doors can be either header or face of wall mounted and come with all the necessary parts for a complete installation.
Operation Type
Roll up vinyl doors are constructed with high-grade materials with few moving parts. This will ensure easy installation and provide many years of trouble-free service. All main components are easy to replace. Depending on your application, we offer 2 types of manual roll-up vinyl doors (Spring loaded and chain hoist).
Manual, Spring Loaded  (Sizes up to 12′ x 12′)
Manual, Chain Hoist (Sizes up to 16′ x 16′)
Mounting Options
There are three mounting options available depending on your needs:
In-Jamb Mount - Mounted In The Opening
Wall Mount - Mounted Over The Opening
Stand-off Mount - Mounted Over Existing Door
Used In Many Applications
Versatile Mounts
Door Construction – Doors are constructed from double-coated tear-resistant vinyl coated nylon. Standard feature includes break away wind bars with automatic reset, replaceable aluminum track and a full-width PVC viewing window.
Track System – Deep wall aluminum track with automatic reset system built into each door as standard equipment. Depending on door size 2″, 4″ and 6″ track channel is used.
Manual Roll Up Door Applications
Manual vinyl roll-up doors are perfect inside and out in the following types of plants, and many more.
Food Processing Facilities
Pharmaceutical Facilities
General Manufacturing
Greenhouse Growers
Warehouse Storage
Key Features

Vinyl Roll Up Doors are custom manufactured to size and feature durable 22 or 40-ounce vinyl, along with a bottom bar foam core cushion that ensures a positive floor contact seal when you have uneven floors.
Spring Loaded Maximum Size: 11'W x 12'H
Chain Hoist Maximum Size:      16'W x 16'H
Standard full-length vision panel ensures good visibility for faster traffic
Standard 22 ounce vinyl, optional 40-ounce upgrade available (On certain sizes)
Built-in automatic reset system is a standard feature on all vinyl roll-up doors
Breakaway feature utilizing flexible fiberglass wind bars that are maintenance-free
Snaptite aluminum tracks available in 2", 4", and 6" depths allow for easy replacement
Chain hoist model features sealed bearing in the mounting plate to assist rotation
One year limited warranty on parts and workmanship
Mechanism
Spring Loaded - An internal spring makes raising and lowering the roll-up door curtain very easy.
(The counter-balance spring is a standard feature on all push/pull systems)
Chain Hoist - Using a gear-reduction pull-chain located on the side of the door allows easy operation.
(Chain hoist operators are required for all larger manual operated doors)